We had a great time!
Thank You, Committee Members for all of your work!
Thank You, Meteors for the great Music!
Slide Show & Images – Click Here
Feel free to download any images you would like to have.
If you took pictures and want to share, please do!
Send them to us: Click Here
Please Help Keep Our Site LIVE!
—————————————————————————————————————-
The Full Agenda
Click to print: 50th Reunion Agenda
Thursday, September 17, 2015
❤50th REUNION HAPPY HOUR❤
(not a Reunion Sponsored event)
Thursday, September 17
Time: Starts at 4:30pm till ???
Share even more old memories.
Where: McGraff's
1602 E. Eisenhower Blvd.
Everyone is welcome!
Friends, family, and other alumni are encouraged to join.
(This get-together is not a sponsored event of the Reunion Committee.
It is an impromptu event, please come if you can make it.)
—————————————
Friday, September 18, 2015


WHAT: Friday Night Wigwam
WHERE: Elks in Loveland
TIME: 7:00pm – 11:00pm
Master of Ceremonies: Mark Williamson
Registration
Pick up badges & reunion booklet
Cash bar
Snacks Provided
LIVE MUSIC by OUR VERY OWN ROCK BAND –
THE METEORS!
Special Tribute to Veterns
w/Doug Margheim

Photography this weekend by
Miranda's Photography
(Sharon & Denny Swartz' granddaughter)
—————————————
Saturday Morning, September 19
TOUR LHS
10 – 11 am
Meet in the West Parking Lot!
Use the Contact Form to tell us
your name, mention "tour" and how many people will be with you.
—————————————
Saturday Afternoon, September 19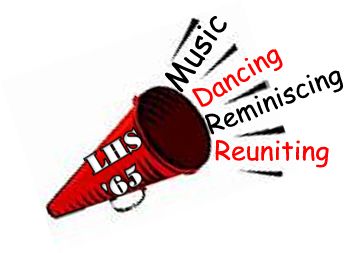 WHAT: Catered BBQ
WHERE: Old Fairgrounds Pavilion #1
700 S. Railroad Avenue, Loveland
TIME: 1:00 – 4:00 pm
GOT A CLASSIC CAR? WE WANT TO SEE IT!!
Parking available for your classic/vintage car
BBQ Beef Brisket, Smoked Pulled Pork, Trail Beans, Potato Salad and Watermelon (silverware, plates and napkins provided)
Keg Beer, Wine, Ice Tea, Lemonade, Bottled Water
Bookmark the site – we'll be adding updates often!
—————————————
Jumpin' Jive! Man alive!
We're the class of '65!
No longer petite; we may ask you to repeat,
We're still the class that
CAN'T BE BEAT!
Turning gray and maxing out the 401K,
We haven't forgotten how to play!
If you missed the last, don't do it again,
START PLANNING NOW FOR THE 2-0-1-5 blast!
FLASH! The Meteors will be on Stage, Live!
for a Private, Limited Engagement!

Please use the Contact form to send us a message!
Click in the IP2Map icon below to see who our visitors
are.


Powered byIP2Location.com